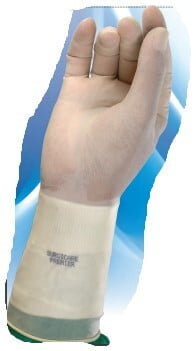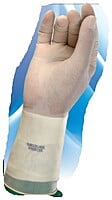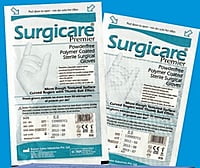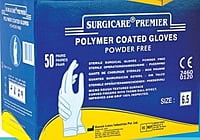 Excellent Polymer Coated Powder free Surgical Gloves-Premier
Excellent Polymer Coated Powder free Surgical Gloves
Surgicare Premier is made from Natural Rubber Latex. The glove is anatomically shaped with thumb ball effect, reducing hand fatigue during surgical procedures. Surgicare Premier provides excellent barrier protection for both doctor and patient.
SAFETY FEATURES:-
Enhanced elasticity, tear strength and donning of powder free gloves
Inner Polymer Coating provides smooth and easy donning of gloves.
Micro textured surface for excellent instrument grip and anti-slip finish.
Latex protein no more than 50µg of protein per gram and dm , eliminates risk of Latex Allergy - Type 1.
Chemical residue almost nil, eliminates risk of contact Dermatitis - Type IV Allergy.
Sterilized in a validated process cycle as per ISO 11135:2014 -6 norms SAL 10 .
Absence of powder eliminates dangers associated with powder, preventing granulomas, adhesions, fibrosis and occupational asthma. Does not contaminate sterile work area.
Manufactured in a clean environment to comply with EN 556 & ISO 13485 requirements.
Manufactured in a dust free environment with low bioburden and therefore reduced pyrogen.
QUALITY CONTROL:-
100% Inspected.
Passes Viral Penetration Test - ASTM F 1671:2007.
Factory Standard of 0.65AQL for Pinholes.